Sauna is a process of purifying and strengthening the body. An oasis of peace, a ritual of well-being and an effective treatment. It is chiefly intended to " uplift the spirit and strengthen the body".
This excellent preventative-therapeutic method, based on the principles of alternately heating and cooling the body, was brought to Europe from Central Asia chiefly by the Finnish tribes. The first written descriptions of saunas date from the period of the 11th and 12th centuries. Sauna spread from Finland throughout the world.
Sauna is excellent for improving health, strengthening immunity, rejuvenating the body and balancing and strengthening the psyche. It releases stress and establishes a state of harmony of the body and spirit. It calms a stressed mind, because the body releases alleviating endorphins into the blood stream and establishes a feeling of euphoria and well-being.
The pleasant heat penetrating deep into the body increases internal body temperature by 1 – 2 ˚C, and increases skin temperature by up to 10 ˚C, it dilates blood vessels, accelerates blood flow and lymph flow and stimulates the body's defence system. Skin pores open and enable the body to release toxins through sweat. Oil gland activity increases. The body purifies itself, the skin purifies and oils itself, and becomes hydrated and refined. The dilated blood vessels improve oxygen supply to the body and skin. Sauna reduces muscular and joint pain, as well as cramps and changes to brain vessel walls frequently remove migraine pain. Consequently, people sleep well after a sauna. The whole body regenerates itself. The subsequent rapid cooling contracts blood vessels and all body cells, training them towards increased flexibility and the body to improve its thermoregulation ability. Regular sauna visitors do not suffer from cold extremities, atherosclerotic blood vessels, varicose veins, colds, flu, allergies, acne, dry and itchy skin, depression…..
Sauna is excellent for relaxation, a wonderful method of purification of body and spirit. The well-known saying - "A healthy mind in a healthy body" - applies. And sauna is one of the means to attain this result.
Sauna and Thai massage
It is normally recommended that you warm your body up before a massage, but the opposite procedure is more suitable during Thai massage. The specific Thai massage, which initiates the process of intensive detoxification, enables easy removal of toxins from the body by means of a sauna and also increases its relaxing and detoxifying effects.
Contraindications
Sauna is not suitable for people suffering from heart and cardio-vascular disease, thrombophlebitis, liver or kidney problems, epilepsy, if suffering from a viral or inflammatory illness (sauna taxes the organism and may complicate progress of the illness), fever (the thermoregulation system is affected), during skin diseases, during menstruation or pregnancy, following excessively exhausting activity, after a heavy meal or on an empty stomach, for people over 70 years of age.
Sauna at the Thai Fit Studio
Our modern sauna welcomes you with its pleasant interior made from natural, meticulously finished Canadian fir. The atmosphere of well-being is emphasised by the stove with hot lava stones.
We offer the following programmes:
dry sauna – temperature ranging between 110 – 70 ˚C, humidity 20% RH (Finnish Sauna)
You can choose from among the following types:
Eucalyptus essence – has anti-viral effects and supports the immune system, accelerates healing, reduces difficulties during bronchitis, hay fever and inflammation of the frontal sinus cavities
Pine essence – clears the air, helps during colds, disinfects
Lemon essence – beneficial during headaches, clears the air passages, reduces blood pressure, accelerates digestion, improves the skin
Birch essence – stabilising, energising, effective on overall balance.
Peppermint essence – refreshes, stimulates, relieves stress, improves concentration, eases migraines, clears the air
Apple essence – purifies the organism, stimulates the appetite and refreshes.
Sauna procedures at the Thaifit Studio are private, for a maximum of 4 people.

Come and try this wonderful method of relaxation and feeling of well-being, a joint experience with those close to you, in the clean, comfortable and welcoming environment of the Thai Fit Sauna.
Sauna gift voucher
Would you like to enhance a relaxing experience? Try a combination of sauna and Thai massage at the Thai Fit 3 Studio. First of all choose a Thai massage, which will initiate the process of intensive detoxification and then completely relax and warm your body in the sauna.
Tip: give this unusual combination to your loved ones as a gift.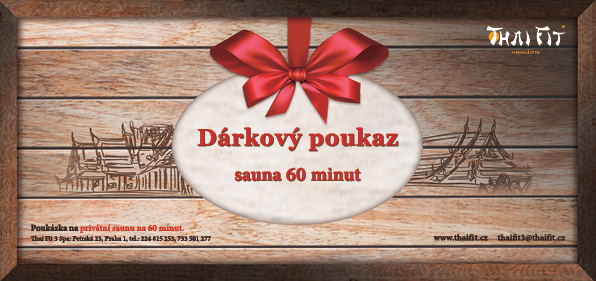 You can order a sauna gift voucher from the comfort of your own home in the order gift voucher section.