ORDER MASSAGE
Make your partner happy on an anniversary, a birthday or just because you can.
You will be able to enjoy a little relaxation together at Thai Fit studios. Treat yourselves to a 60-minute romantic massage of your choice, while also enjoying a bottle of sparkling Bohemia Sekt wine together. .
Traditional Thai Massage at the Thai Fit studios:
Thai Oil Massage for two

Thai Oil Massage contains elements of Traditional Thai Massage as well as elements of Indian Ayurveda, one of the oldest healing systems in the world. It relieves back and muscle pain, joint problems, improves blood circulation, agitates the lymphatic system, strengthens immunity. It is excellent prevention against illness. It harmonizes, heals, strengthens the body and offers perfect relaxation.
The Herbal Massage for two
The Herbal Massage consists in the combination of Traditional Thai Massage with application of hot herbal compresses to the energy centres of the body. Thai Herbal Massage by action on the acupressure points of the body relieves, eliminates stiffness of the muscles and joints and agitates natural blood circulation in the body. Thanks to the hot herbs, the tired body warms up and relaxes, which results in quick relief of pain and stress.
Chocolate Massage for two

Chocolate was highly appreciated already by the Ancient Aztecs for its exceptional composition and action on the organism. It is known for its rejuvenating, anti-depression and aphrodisiac effects. Thanks to the content of a unique composition of amino acids, minerals, vitamins, alkaloids and anti-oxidants, it stimulates and calms the organism at the same time.
Visit us and experience the Chocolate Massage that combines the sensational features of chocolate with the skill of our Thai masseuses.
Gift a romantic massage
Give a romantic massage as a gift voucher. You can purchase gift vouchers at our studios without requiring a reservation. Massages for couples can also be ordered on-line in the voucher – electronic voucher order section.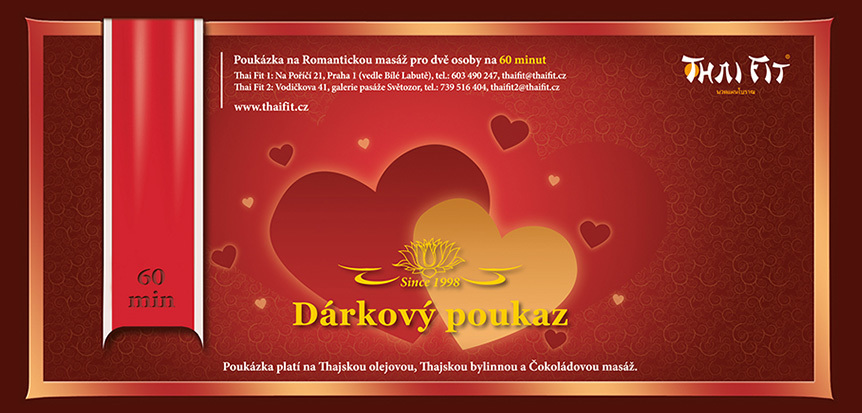 | Type of massage | Length | |
| --- | --- | --- |
| Romantic Massage for two - Oil Massage (price - 2 per.) | 60 min. | TO CART |
| Romantic Massage for two - Herbal Massage (price - 2 per.) | 60 min. | TO CART |
| Romantic Massage for two - Chocolate Massage (price - 2 per.) | 60 min. | TO CART |